Baseline Study Available Now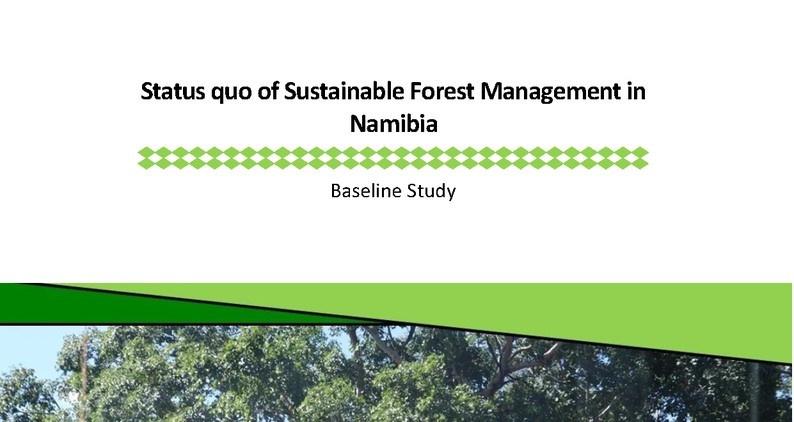 As part of its activities, the NSFM-Project has recently published its baseline study online. A soft copy is available as a download now.
Extract from the study:
'The study starts with an overview of Namibia's forests and woodland, the major timber trees and non-timber forest products, and the dynamics that regulate Namibian tree populations. Namibia has multifunctional forests and a detailed overview of its services and products is given. The first chapters show that there is still a lack of data required for SFM, which does create opportunities for forest and woodland researchers in Namibia. An overview of the legal framework illustrates that Namibia's laws and policies strongly support SFM. The main legal tool in Namibia is the Forest Act with its Regulations, which are currently under revision.
The baseline survey in the Community Forests (CFs) of north-eastern Namibia shows that many participants appear to know and understand SFM well, however, this knowledge is superficial and does not include silviculture. For example, very few of the respondents had ever planted a tree. There is a general perception that the Namibian forest is non-exhaustive and does not need assistance to regenerate. However, natural forest regeneration in Namibia is slow and erratic, while the continuous removal of the best droppers, poles and timber trees degrades the timber quality of Namibia's trees.
The application of SFM is currently limited in Namibia for a variety of reasons. One of the main problems is that the existence of forests in Namibia is not well recognised by laymen, policymakers, and ecologists. There are no forests in Namibia according to local classifications, only savanna. No updated forest map according to FAO classifications has been made for Namibia since Independence, nor has a national forestry inventory. The Namibian Directorate of Forestry is small and has limited resources, especially considering the vast areas of forested land to manage and the increasing pressure on forests for subsistence agriculture and tropical hardwoods. CFs provide opportunities for SFM, however, they need a lot of assistance to draft management plans and monitor annual allowable harvest guidelines.
There is no silviculture applied in Namibia; forest management in protected forests is restricted to the bare extraction of resources with a trend of overharvesting. Opportunities are hence manifold to improve SFM in Namibia and they are summarised in the last chapter.'
Stay Informed
When you subscribe to the blog, we will send you an e-mail when there are new updates on the site so you wouldn't miss them.