18 Traditional Authority Representatives from Zambezi Region Trained on Sustainable Forest Management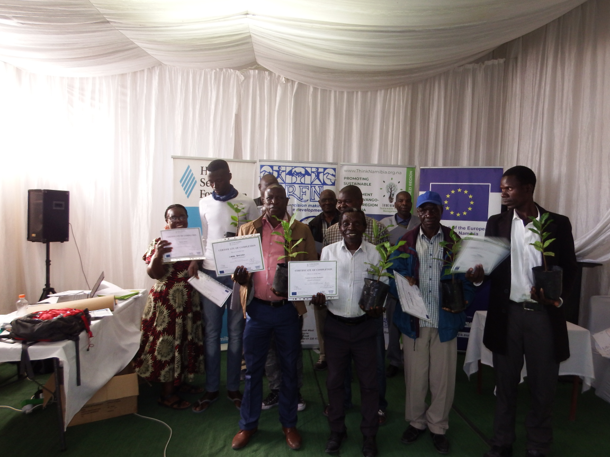 On the 21st of June 2023, the Namibia Sustainable Forest Management (NSFM) project held a one-day workshop on Sustainable Forest Management (SFM) for Traditional Authority (TA) representatives from the Zambezi region in Katima Mulilo. All various TAs from the tribes of Zambezi region were represented, including sub courts from emerging community forests. The workshop is part of several workshops that are aiming at improving knowledge and skills on SFM among community forest members, TA representatives, as well as multipliers such as youth representatives.

16 traditional authority representatives received a one-day training with the objective of training participants on the concept of SFM using the developed trainer's manual. The topics dealt with during the one-day training were: Basics of SFM, the role of community forests in SFM, deforestation, forest degradation and climate change, forestry laws and policies/ permits and illegal fencing in communal land of Namibia. Most participants had a dipper understanding on the role of community forests because most of them came from areas with gazetted community forests which are emerged with conservancies. Thus, the topic was an eye opener to them. Those who knew the roles gave assistance.

All participants appreciated the training for giving them knowledge on SFM, they noted that they will amend the regulations and structures in their community forest committees. Some of the participants were head Indunas and advisers to the chief, and they stated that it was their duty to bring changes to their respective community forests in which the traditional authorities belong. After all the topics were covered, participants received their certificate, project shirt and seedings to go plant in their homesteads as a reminder to be key players in promoting SFM in their community forests.
Stay Informed
When you subscribe to the blog, we will send you an e-mail when there are new updates on the site so you wouldn't miss them.