24 Multipliers from Zambezi Region Trained on Sustainable Forest Management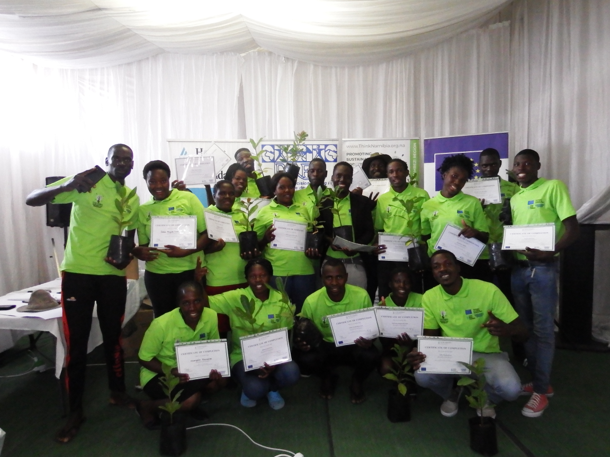 24 Multipliers from Zambezi Region Trained on Sustainable Forest Management
The Namibia Sustainable Forest Management (NSFM) project held a two-day workshop on Sustainable Forest Management (SFM) for multipliers from the Zambezi region in Katima Mulilo from the 19th – 20th of June 2023. The workshop aimed at training multipliers such as leading members of different communities (youth representatives) to enable them to train other members of their communities on SFM using the educational material provided with.
Day one of the workshop focused on the basics of SFM. Multipliers were interested in learning about SFM which seemed to be an eye-opening subject. Only a few young people in various community forests, especially in emerging community forests, have knowledge on the concepts of SFM and how to manage their community forests. The trainer used group work methods and practical examples to demonstrate the 3 pillars of SFM (economy, environmental and social) and on how they relate to each other and co-exist. Furthermore, the programme was followed by various topics which were explained and unpacked in detail such as the roles of community forests in SFM, the woodland of Namibia and deforestation and climate change.
At the second day of the workshop, multipliers were asked to do a recap on day 1. The topics were presented by multipliers, and some participants were given homework and they were well prepared as they presented well on the three pillars of SFM. The main issue that seemed interesting to multipliers was the legal framework around illegal fencing. After the lesson, they had knowledge of the Communal Land Act of 2002 for illegal fencing which was well summarised. The topic gave them ideas on how to handle such issues in the region. Forest inventory was the next new topic of that day, and the group did a practical by going into the nearest forest to practice how inventory is carried out. Then, they were asked on the importance of conducting forest inventories. They enjoyed the practical lesson because it was their first-time handling and using a GPS and other inventory tools.
After the two days of training, all participants were equipped with educational materials such as fact sheets, posters, and the Namibian constitution. At the end of workshop day 2, all participants passed the brief exams. Everyone was awarded a certificate, a project shirt, and a tree seedling to remind them daily of their responsibility in SFM.
Stay Informed
When you subscribe to the blog, we will send you an e-mail when there are new updates on the site so you wouldn't miss them.