Important Round Table Discussion hosted by the NSFM-Project in Rundu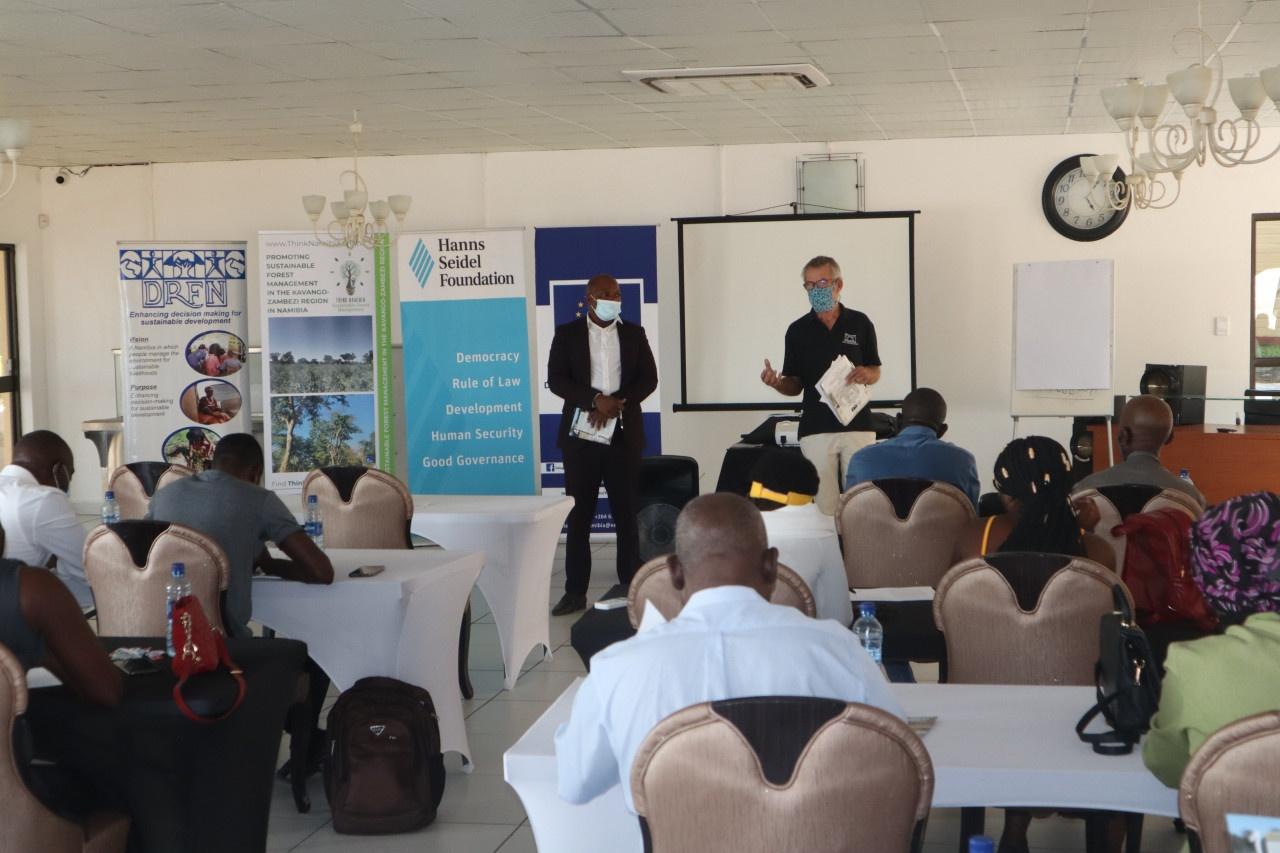 On 29 September 2021, a Round Table Discussion was organised by the NSFM-Project on the subject 'Fencing in Community Forests and Conservancies'. Various representatives of the Kavango East Traditional Authorities, the Community Forests, the Communal Land Board, the Regional Council, the Directorate of Forestry as well as the Ministry of Lands met for this important event in Rundu. The Round Table Discussion is a component of the 'Promoting Sustainable Forest Management in the Kavango-Zambezi Region in Namibia' (NSFM) Project, an EU funded initiative jointly implemented by the Hanns Seidel Foundation (HSF) Namibia together with the Desert Research Foundation of Namibia (DRFN).
The Round Table Discussion aimed at providing all invited stakeholders with a platform to exchange their different points of view about fencing. However, before the actual discussion started, Mr Peter Watson, a consultant with the Legal Assistance Centre (LAC), provided a presentation on the legal aspects of fencing to ensure that all participants have the level of knowledge needed for a well-informed discussion. He pointed out where the differences are between fencing on communal land and fencing in Community Forests.
Moderated by Ms Daisy Manungo, the event commenced with the welcoming remarks provided by Mr Thomas Muronga who spoke on behalf of the chairperson of the Communal Land Board. The Communal Land Board representative emphasised that they have been waiting long for such a meeting as the fencing issue keeps escalating in their areas. Thereafter, Dr Clemens von Doderer, Resident Representative of the HSF, elaborated on the objective of the event. After all participants were set to the same level of knowledge by the LAC talk, an extremely lively discussion arose. The different stakeholder groups made use of the platform provided by the Round Table Discussion to state their perspective and to elaborate on what is taking place in their Community Forest. Also, the question of the distribution of benefits was discussed heatedly.
The event concluded with the closing remarks given by Hon. Victoria Kauma, Councillor of Rundu Urban Constituency and Vice-Chairperson of the National Council.
By accepting you will be accessing a service provided by a third-party external to https://www.thinknamibia.org.na/