Panel Discussion on the Current State of Sustainable Forest Management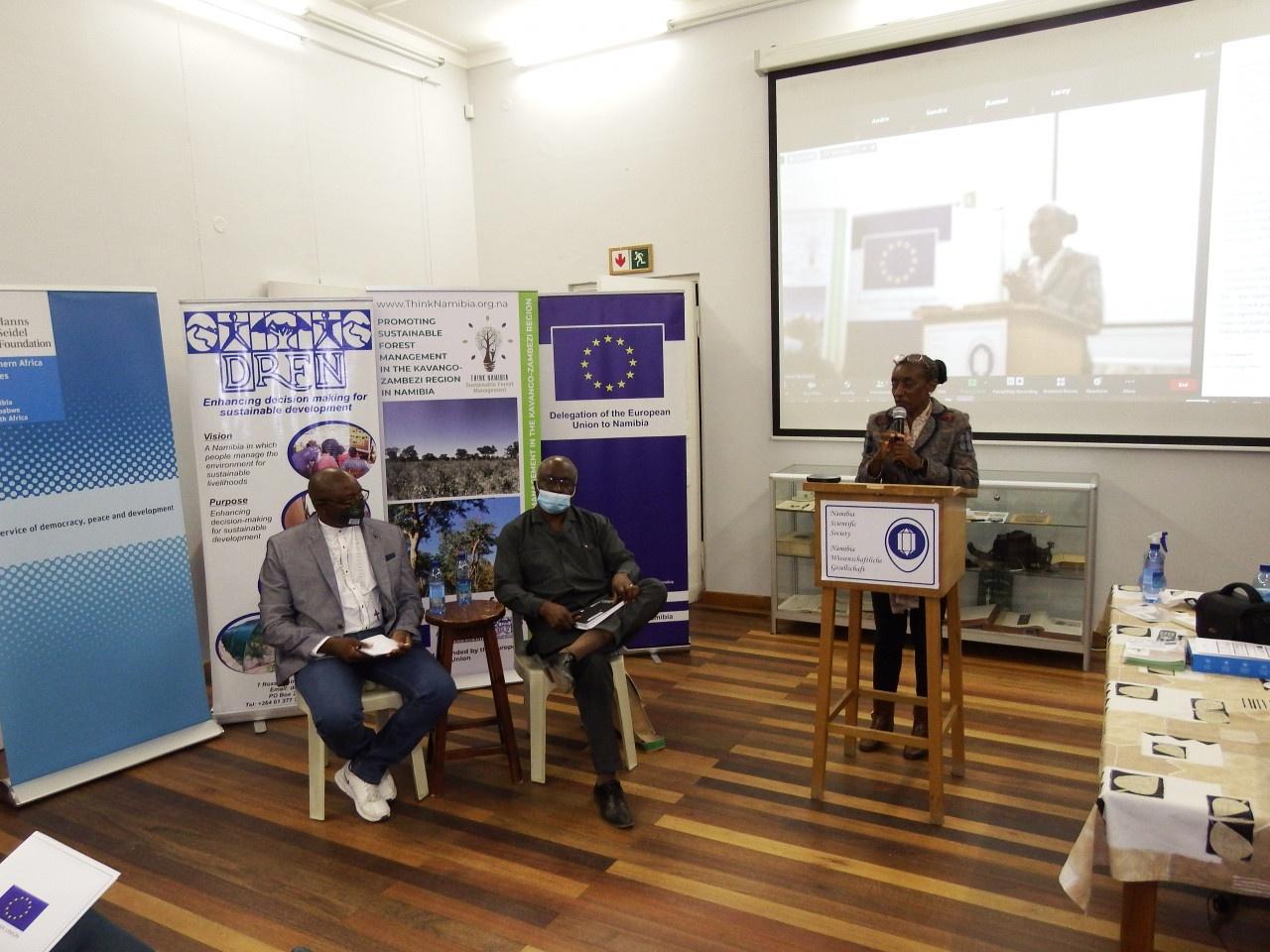 The second Panel Discussion in a series of upcoming Public Discussions dealt with the current state of Sustainable Forest Management in Namibia. On 11 May 2021, the Namibia Sustainable Forest Management (NSFM) Project in collaboration with the Namibia Scientific Society and funding from the European Union successfully hosted a Panel Discussion in Windhoek. Three experts were invited to shed light on the event's topic from different perspectives.
Moderated by Ms Doufi Namalambo, the event was officially opened by the Deputy Head of the EU Delegation to Namibia, Ms Gosia Lachut. After the objective for this event was set by Dr Martin Schneider (DRFN) – namely to discuss the status quo of Sustainable Forest Management -, the panellists got the opportunity to provide their statements. The panel consisted of the Director of Forestry, Mr Joseph Hailwa, the Chairperson of the Kavango East Regional Farmer Union, Mr Adolf Muremi, as well as the Forest Scientist Dr Jonathan Kamwi (NUST) whereby the latter joined the event virtually.
All participants agreed on the need for improved implementation of the concept of Sustainable Forest Management as the status quo does not take a good picture. It was emphasised that the local farmers fully support the sustainable management of the forest. However, voices that have come to be heard pointed fingers at the Ministry for lacking capacities, particular capacities for the conduct of inventories to be able to access the volume of resources left. The point of capacitating Community Forest was also raised; Community Forests need to be better capacitated to better fulfil their mandate in sustainably managing forest resources.
The event was officially closed by the Vote of Thanks provided by Dr Clemens von Doderer (HSF). After the event, all participants took the opportunity to social networking with some drinks and snacks.
Stay Informed
When you subscribe to the blog, we will send you an e-mail when there are new updates on the site so you wouldn't miss them.