Sustainable Forest Management Explained in 8 Episodes: Video Presentation in Kavango East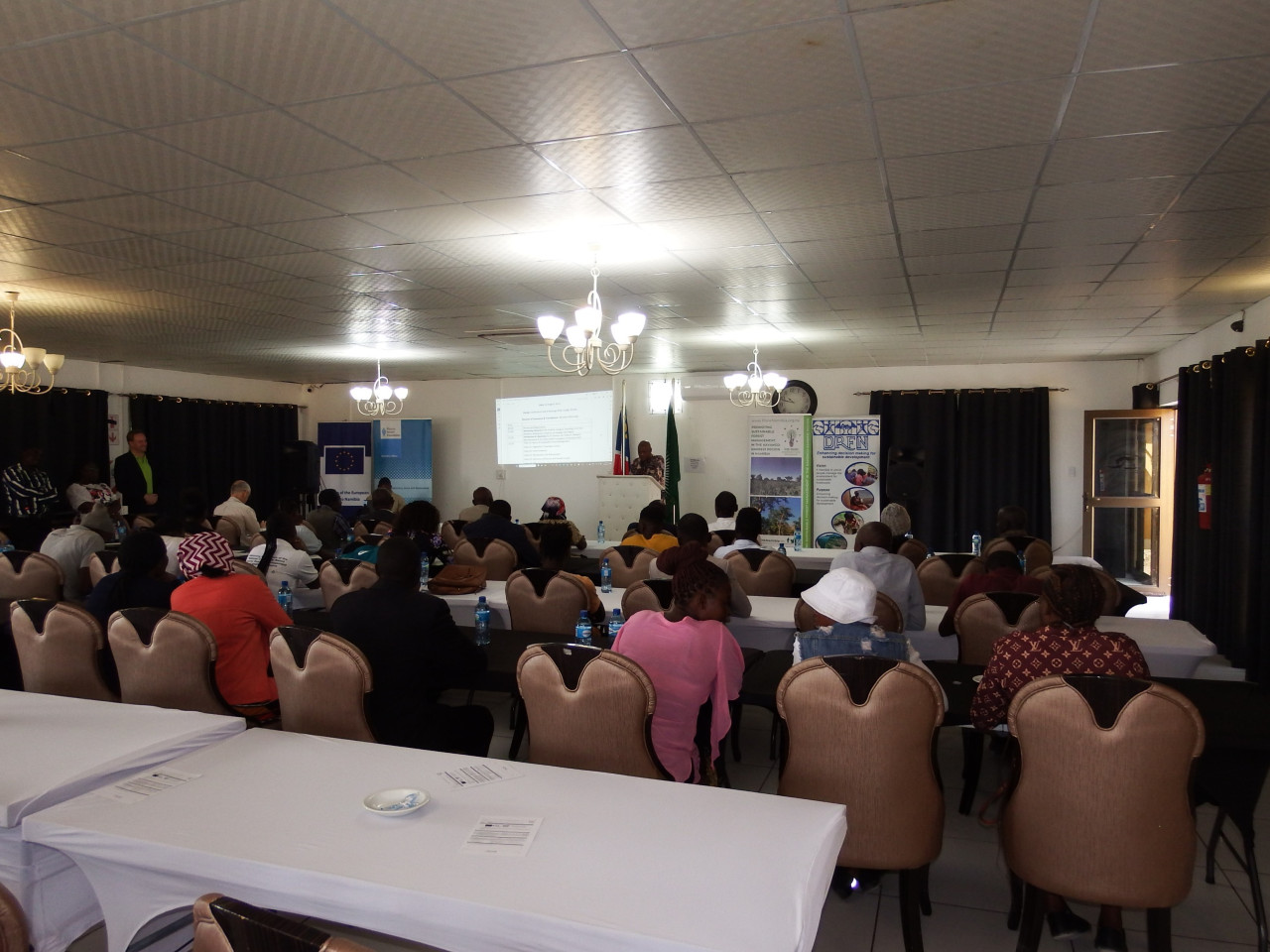 The NSFM Project hosted a video presentation followed by a public discussion on these short educational video clips on Sustainable Forest Management (SFM) for Kavango East region stakeholder in Rundu on 30 August 2023. These videos clips (click here the get to the videos) are based on the fact sheet series that the NSFM Project launched in 2022. The series of eight educational video clips that were first launched in English language in 2022 have been visual translated to Rumanyo. They are an important component of the 'Promoting Sustainable Forest Management in the Kavango-Zambezi-Region in Namibia' (NSFM) Project, a collaborative initiative of the Hanns Seidel Foundation (HSF) Namibia and the Desert Research Foundation of Namibia (DRFN), financially supported by the European Union.
Ms Daisy Manungo moderated the video presentation and dialogue event in Rundu. Mr Andrew Haingura, Personal Assistant for the Governor Kavango East, gave the welcoming remarks. He greeted all the participants and expressed his gratitude to the NSFM Project for producing the translated videos in Rumanyo language that will have a great impact on the local community. He further stated that forests are crucial for long term reliability. Therefore, he was confident that the dialogue event was of significant importance to all stakeholders that were present. The introduction and objectives were provided by Dr Clemens von Doderer, Resident Representative of the HSF. He highlighted the importance of the eight educational videos and noted that the NSFM project was coming to an end. Therefore, it would be the sole responsibility of community forest members to continue the efforts of protecting their resources.
The participants watched eight Rumanyo educational video clips that explained the concept and benefits of SFM. The participants expressed that they have learned valuable lessons from the videos. They also highlighted how they will continue to support their community forests so that the future generations could benefit from them. Concerns were raised on the closure of the project, and they wished if the project could get an extension to continue its activities.
Hon. Victoria Kauma, Chairperson of the National Council, delivered the closing remarks. She acknowledged the contributions of the HSF and DRFN through the NSFM Project and the remarkable work that the project had accomplished in the region. She assured that the office of the Governor would advocate for the European Union to continue funding the project.
Stay Informed
When you subscribe to the blog, we will send you an e-mail when there are new updates on the site so you wouldn't miss them.