NSFM-Project Launched Educational Material on Sustainable Forest Management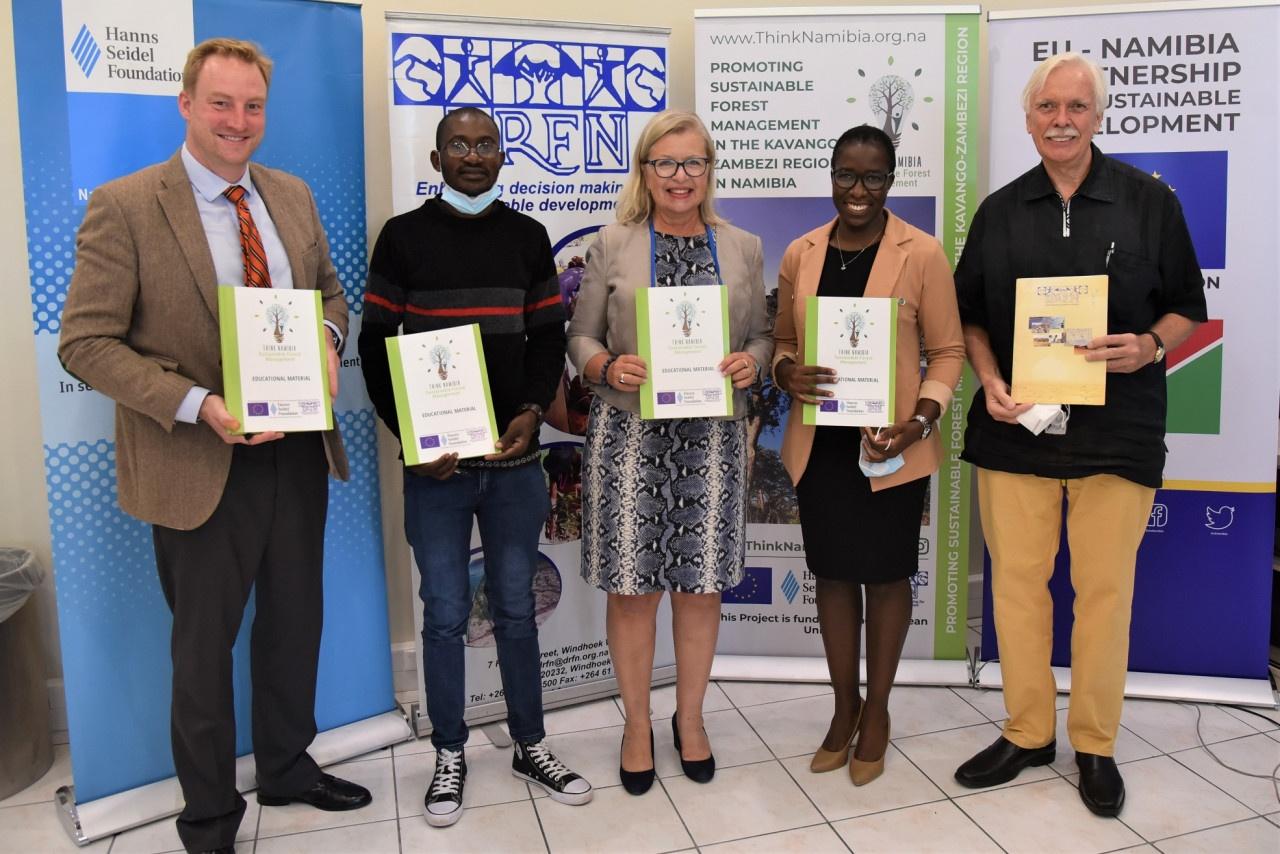 On 08 February 2022, the NSFM-Project launched its educational material on Sustainable Forest Management (SFM) in Windhoek. The series of eight fact sheets and four posters is an important component of the 'Promoting Sustainable Forest Management in the Kavango-Zambezi-Region in Namibia' (NSFM) Project, a collaborative initiative of the Hanns Seidel Foundation (HSF) Namibia and the Desert Research Foundation of Namibia (DRFN). The fact sheets and posters are available in English, Rukwangali, Rumanyo and Silozi, as hardcopy in the House of Democracy as well as download at https://www.thinknamibia.org.na/publications/factsheets and https://www.thinknamibia.org.na/publications/posters-and-infographics.
Moderated by Dr Clemens von Doderer, Resident Representative of the HSF, the launch event commenced with welcoming remarks provided by the Ambassador of the Delegation of the European Union to the Republic of Namibia (EUD), H.E. Sinikka Antila. She stressed that "it is our [EUD] objective to work towards improved forest governance and law enforcement and, ultimately, the sustainable management of the world's forests, as a means of realizing their potential to support the eradication of poverty and contribute to sustainable, inclusive development".
Ms Miya Kabajani, one of the consultants who created the content of the fact sheets and posters, introduced the material to the audience. She also elaborated on the main challenges in the creation process: During the literature research, it was very challenging to find information specifically dealing with forestry in Namibia.
Furthermore, the NSFM-Project invited Mr Stefanus Kudumo from the Kavango West region to speak on behalf of all translators who translated the material into the most commonly spoken local languages of the projects' target regions, namely Rukwangali, Rumanyo and Silozi. He emphasised that translation is an important tool to build bridges between cultures because local communities prefer their native language and that makes it easier for them to understand complex contexts.
After a Q&A session, the event was rounded off by the closing remarks provided by Dr Martin Schneider, Director of the DRFN.
Stay Informed
When you subscribe to the blog, we will send you an e-mail when there are new updates on the site so you wouldn't miss them.