NSFM-Project Panel Discussion 25/02/2021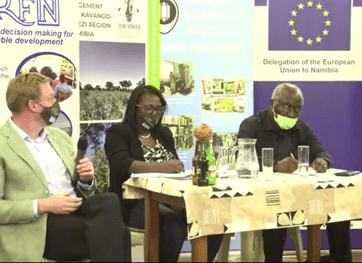 The Hanns Seidel Foundation (HSF) Namibia in collaboration with the Desert Research Foundation of Namibia (DRFN and the Namibia Scientific Society (NWG) successfully hosted a Panel Discussion in Windhoek on 25 February 2021. Four experts from different backgrounds were invited to deal with the question 'What is Sustainable Forest Management?' in a lively online event.
As the first event in a series of upcoming Public Discussions, this Panel Discussion comprises a key component of the 'Promoting Sustainable Forest Management in the Kavango-Zambezi-Region in Namibia' (NSFM) Project funded by the European Union (EU). The objective of the Panel Discussion was to discuss the concept of Sustainable Forest Management and its significance to Namibian hardwood forests. Therefore, the NSFM-Project was able to gain four experts from Academia, the Directorate of Forestry, as well as the HSF, namely Dr Jonathan Kamwi of the Namibia University of Science and Technology (NUST), Dr Albertina Ndeinoma of the University of Namibia (UNAM), Mr Joseph Hailwa of the Directorate of Forestry (Ministry of Environment, Forestry and Tourism (MEFT)), and Dr Clemens von Doderer of the HSF.
Moderated by Ms Doufi Namalambo, the event was officially opened by Ms Susann-Marie Lewis, representing the Delegation of the European Union to Namibia. After the objectives and expectations were set by the NSFM-Project Manager Dr Lara Beer, the question 'What is Sustainable Forest Management?' was answered by each panellist. By having experts from diverse backgrounds, this question was approached from the academic and international perspective, as well as from the Ministries point of view.
The four experts agreed on the fact that about one-sixth of Namibia's hardwood resources has been harvested without envisaging the concept of Sustainable Forest Management. The Director of the Directorate of Forestry, Mr Hailwa, however, highlighted that the forest is Namibia's most important resource. To safeguard the sustainable use of timber resources, it is essential to find the balance between ecology, economy as well as society. Dr von Doderer explained these three pillars of sustainability by using a hands-on demonstration: He placed a fruit of the desert (representing the forest) on top of three bottles, each representing one of the three pillars of sustainability (ecological, economic, and socio-cultural). By removing one of the bottles (pillars), the fruit of the desert fell to the ground, symbolising the loss of balance. The Panel Discussion benefitted from the lively participation of the audience that showed a keen interest in the events' subject.
Related Posts
By accepting you will be accessing a service provided by a third-party external to https://www.thinknamibia.org.na/