"Stop Poaching Namibia's Forestry Resources" – Round Table Discussion in Windhoek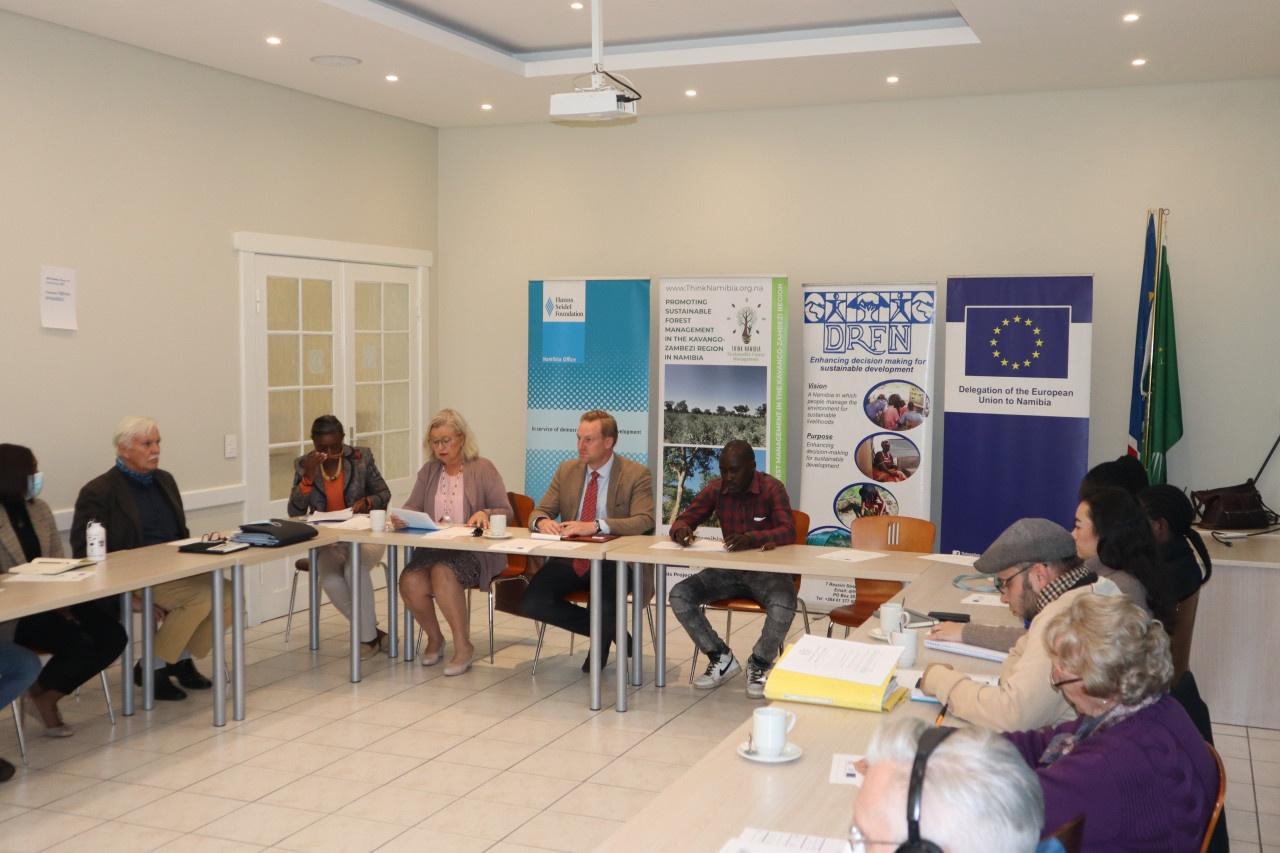 The SFM project held a round table discussion with media representatives on stopping the poaching of Namibia's forestry resources at the House of Democracy, Windhoek, on 7 July 2022. The discussion was attended by members from inter alia New Era Publication Cooperation, Ministry of Education, NNF, European Union, Hitradio Namibia, Ministry of Environment, Forestry and Tourism, NBC, Legal Assistance Center, City of Windhoek, One Africa Television, NBRI-Society. The objective of the round table discussion was to inform media institutions on the importance of Sustainable Forest Management (SFM) for Namibia and to provide a platform to exchange views on how Namibia can further strengthen activities to protect its forest resources especially when it comes to poaching Namibia's forestry resources.
The event was moderated by Ms Doufi Namalambo and welcoming remarks were done by H.E. Sinikka Antila, the Ambassador of the Delegation of the European Union to Namibia who thanked all partners in the project and highlighted activities done by the project such as engaging with the member of parliament. Additionally, she highlighted the important role the media plays in society when it comes to disseminating information. She advised everyone to be ecologically conscious and welcomed everyone and wished everyone to have a fruitful discussion.
The keynote presentation was done by Mr Fillemon Kayofa, Deputy Director of Forestry. His presentation included a legal framework, the overall objective of SFM, utilisation of forest resources, measures implemented by his Directorate as well as challenges, and recommendations. He encouraged coordination in land use planning between government institutions and appealed for more investigation to be done to produce more food on a small scale and encouraged community forest members to develop forest management plans for sustainable utilisation of forest resources.
Mr Mainga from the Dzoti Emerging Community Forest in the Zambezi region highlighted that forests in Namibia are not only subject to illegal harvesting but also overexploitation, especially at the local level. This can be attributed to a lack of knowledge, so awareness should be raised.
Discussions that were held included that local communities can avoid overexploitation of forest resources by adhering to rules and regulations governing the resource. With the increase in human population, there should be a balance between resources and the human population, so we all live in harmony with the forests. Overall, national inventories are advised to be done and more awareness needs to be raised and more capacity building needs to be done especially at the ground level.
The closing remarks were done by the Director of the DRFN, Dr Martin Schneider, who highlighted different forest resource activities taking place in the Zambezi region and encouraged value additions to the forest resources. He encouraged Namibians to do more with their natural resources rather than exporting them raw.
.0
Stay Informed
When you subscribe to the blog, we will send you an e-mail when there are new updates on the site so you wouldn't miss them.