Another Five Community Forests trained in Sustainable Forest Management (PART 2)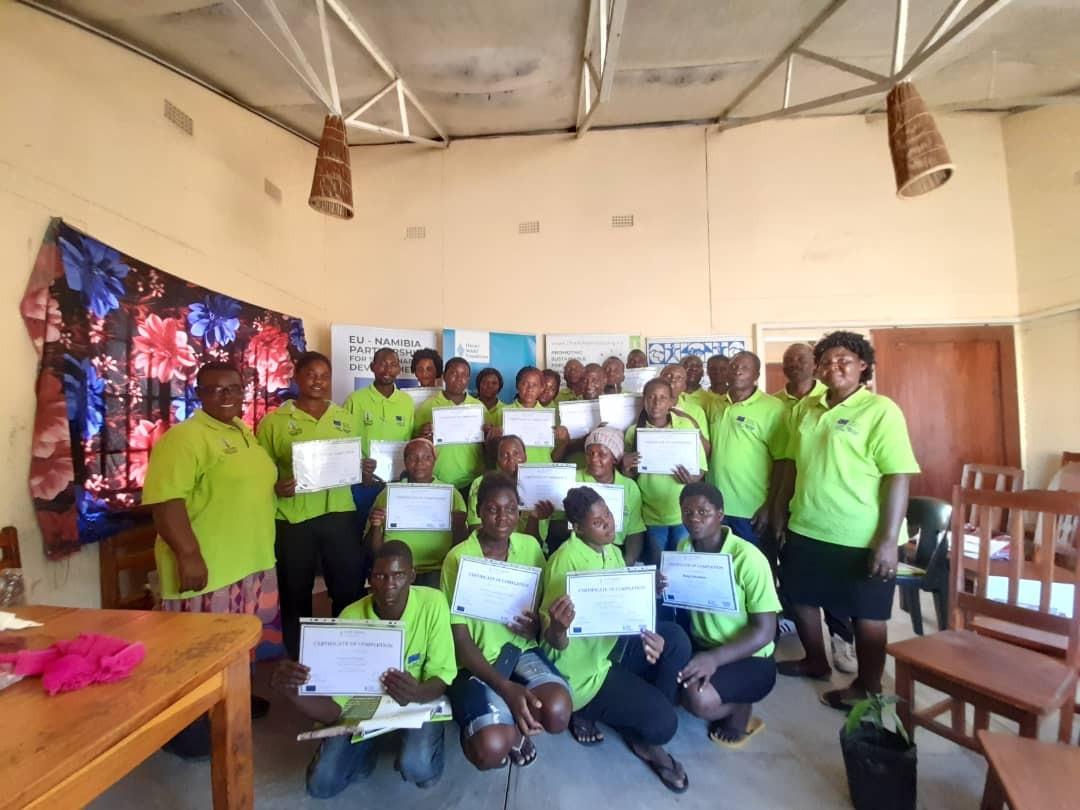 From mid-March to the beginning of April, the 'Promoting Sustainable Forest Management in the Kavango-Zambezi-Region in Namibia' (NSFM) Project was in the field again and trained the members of five Community Forests in Zambezi, Kavango East as well as Kavango West Region on Sustainable Forest Management. The two-day long workshops aimed at equipping members of Community Forests with the necessary skills and knowledge in order to strengthen their capability to apply the concept of Sustainable Forest Management in their daily management of their forests. The five Community Forests that have received training included Katope, Bukalo, George Mukoya and Muduva Nyangana Community Forest as well as Dzoti emerging Community Forest.
Day two of the workshops commenced with a recap of the subjects learned on day one. The trainer ask questions and picked the participants randomly to answer the questions. Then, the first new subject was permits. The trainer discussed with the participants the different types of permits available, as well as the process of issuing a permit and monitoring the person who got the harvesting permit. They also discussed what has to be done if the permit holder does not adhere to the rules.
Next on the schedule of day 2 was a practical on forestry inventory. The groups went into the nearest forest to practice the steps of an inventory. After the participants presented their results in a plenary session, the trainer discussed with them the importance of inventories and highlighted particularly in the emerging Community Forest that an inventory is one of the criteria for the gazettement of a Community Forest.
Furthermore, the trainer and the participants worked out together the benefits of combining the growing of crops and the grazing of cattle under the trees of a forest in an agroforestry system. By asking the question if all fences in their Community Forest were authorised, the trainer went on to the subject of illegal fencing. The last topic before the lunch break was the woodlands of Namibia as well as fire management in forests.
The afternoon session commenced with an exam that covered all topics covered during the last one and a half days. All participants were so eager to pass the exam that they did a recap of all subjects during their lunch break. Where the participant struggled, the trainer explained in their ethnic language.
The workshops in the Community Forests concluded with a hand-over ceremony of certificates and tree seedlings. Especially the distribution of tree seedlings aims to remember each participant of their daily responsibilities in Sustainable Forest Management.
Stay Informed
When you subscribe to the blog, we will send you an e-mail when there are new updates on the site so you wouldn't miss them.